Chatham Construction Company is one of the top General Contractors in Atlanta. Contact us today to learn how we can partner with you on your next project.
Chatham Construction Company is one of the premier Atlanta general contractors. Our team members have provided general contracting services for judicial complexes, jails, schools, offices, retail establishments and more. Our firm provides a comprehensive solution for your commercial project with expertise in many facets of the industry.
Some of our commercial services include:
Construction Management
Design/Build
Tenant Improvements / Build-outs
Owner Improvements / Build-outs
Property Restoration Services (Fire, Water & Mold Remediation)
Chatham Construction Company is a licensed general contractor in the state of Georgia (License No. GCCO006329)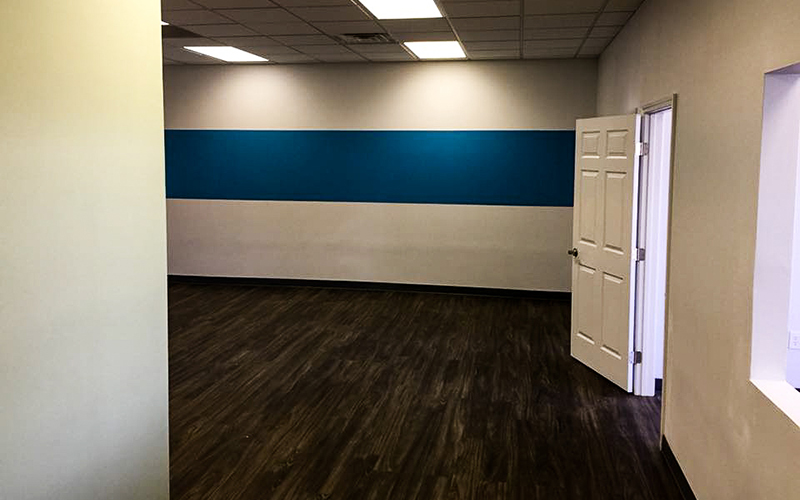 Commercial Build-Out
Chatham Construction Company completed a tenant build-out for I.K. Hofmann. The scope included new flooring, new paint, metal framing and a custom barn door.
Let's Build Something Together
We understand our clients have a variety of questions and concerns. We hope you find many answers to your questions throughout our website, but we are standing by to discuss your specific needs. 
Should I remodel or should I sell?
This sometimes difficult decision should be considered cautiously with attention to several key variables, such as real estate comparables, remodeling activity in your neighborhood, the desirability of your neighborhood because of good schools, shopping, tolerable traffic, etc., and the net cost to you if you buy a larger and more expensive home elsewhere. The good news is that we have you covered either way. Our sales division, Chatham Realty Group, is here to help with your selling needs as well.
Why should I consider selecting a more recognizable company like Chatham Construction Co. and not the lowest priced?
There are many compelling reasons to choose legitimate construction companies with experience and credentials, the same reasons you do business in other areas of your life with organizations and individuals with a verifiable track record. Our company has both in-staff and out-staff design capabilities, depending on your needs. A good business relationship with our subcontractors and suppliers equates to a great customer relationship and a high quality job. As the old saying goes, "The bitterness of poor quality remains long after the sweetness of low price is forgotten."
Are you a licensed General Contractor?
Yes. We hold a General Contractor's license (No. GCQA006327) and a Residential-Light Commercial license (No. RLCI001593), both in the state of Georgia.
Are you insured?
Yes. Our firm holds all applicable insurances to cover all parties involved.
Can you build a custom home on my land or lot?
Yes. We can assist with your architectural needs and work with you throughout the construction process to deliver your dream home.